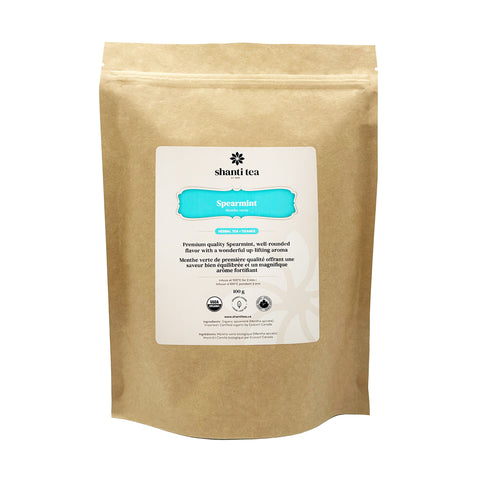 Brand:
Visit the Brand's page by clicking its name.
Shanti Spearmint, Organic
Premium quality, organically grown Spearmint, naturally sweet and well-rounded flavor, complemented by a peachy mint aftertaste, an enchanting aroma that captivates the senses. 
 This herbal infusion can be enjoyed in both hot and iced forms, making it a versatile choice for any time of the day. Whether you prefer a comforting cup of hot spearmint tea or a refreshing glass of iced spearmint infusion, this herb is sure to delight.
In addition to its delightful flavor, spearmint is known for its cooling, refreshing, and uplifting properties. It is one of the most popular mint varieties, offering a milder taste compared to peppermint. The minty and sweet aroma of spearmint adds to its overall appeal.
Spearmint has been traditionally used to help alleviate symptoms of digestive problems. It may aid in relaxing the muscles of the stomach, potentially reducing symptoms of digestive issues.
Ingredients:
   organic Spearmint (Mentha spicata)
Weight:
100g