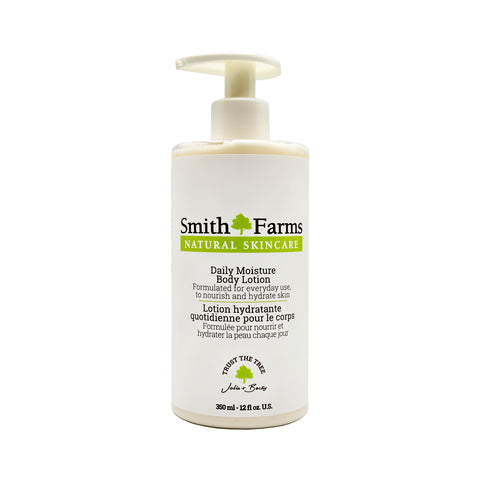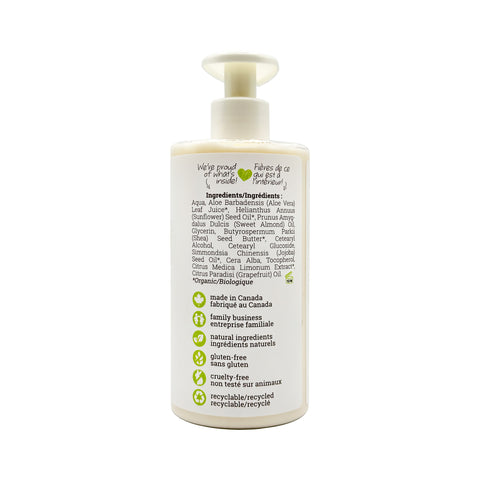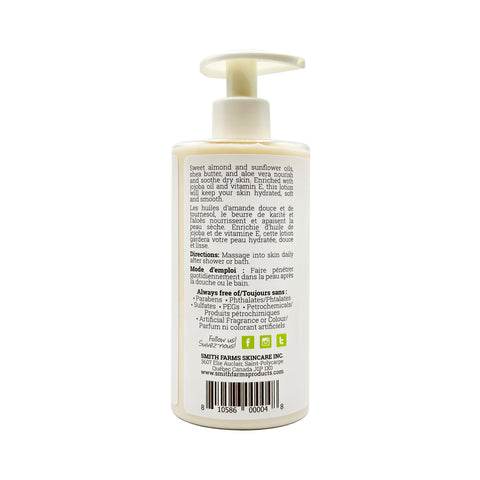 Brand:
Visit the Brand's page by clicking its name.
Smith Farms Daily Moisture Body Lotion
Daily Moisture Body Lotion: Nourish and Hydrate Your Skin Every Day
Our Daily Moisture Body Lotion is expertly formulated for everyday use, providing the essential nourishment and hydration your skin needs. Infused with a blend of key ingredients, including sweet almond oil, sunflower oil, shea butter, and aloe vera, this lotion replenishes and soothes dry skin, leaving it feeling revived and revitalized. With the addition of jojoba oil and vitamin E, your skin is kept moisturized, incredibly soft, and irresistibly smooth.
Enjoy the light and refreshing scent of grapefruit essential oil, adding a delightful aroma to your skincare routine. Our body lotion is specifically designed to be gentle on sensitive skin and is suitable for individuals with skin conditions such as rosacea, eczema, and psoriasis.
SIZE: 350 ml/12 fl oz.
Directions for use: Massage the lotion into your skin daily, preferably after a shower or bath, to lock in moisture and maximize its benefits.
Here's a breakdown of the carefully selected ingredients in our Daily Moisture Body Lotion:
Distilled Water: Purified water that serves as the base for our nourishing formula.
Organic Aloe Vera: Aloe vera is well-known for its soothing and moisturizing properties, helping to calm and hydrate the skin.
Organic Sunflower Oil: Sunflower oil is rich in essential fatty acids, providing deep hydration and promoting a healthy skin barrier.
Organic Almond Oil: Almond oil is nourishing and helps to moisturize and soften the skin.
Glycerin (Vegetable): Derived from vegetables, glycerin acts as a humectant, attracting and retaining moisture in the skin.
Organic Shea Butter: Shea butter is deeply moisturizing and helps to repair and protect the skin's natural moisture barrier.
Organic Cetearyl Alcohol (and) Cetearyl Glucoside: A plant sugar-derived emulsifier that helps blend the ingredients together, resulting in a smooth and creamy texture.
Organic Jojoba Oil: Jojoba oil closely resembles the skin's natural sebum, providing excellent hydration without greasiness.
Organic Beeswax: Beeswax forms a protective barrier on the skin, sealing in moisture and preventing dryness.
Vitamin E: A powerful antioxidant that nourishes and protects the skin from environmental damage.
Organic Citrus Extract: A natural preservative derived from citrus fruits, ensuring the longevity of the product.
Grapefruit Essential Oil: Grapefruit oil offers a refreshing and invigorating scent, enhancing the overall sensory experience of using our body lotion.
Choosing our Daily Moisture Body Lotion provides you with a range of benefits and features:
Ideal for all skin types, including troubled and allergy-prone skin.
Suitable for the whole family, making it a versatile choice.
Gentle and safe for sensitive skin.
Made from natural plant-based ingredients.
Suitable for vegetarians.
Free from synthetic additives.
Gluten-free formulation.
Cruelty-free, as we firmly oppose animal testing.
Environmentally friendly packaging.
Crafted with care in Canada.
Experience the transformative effects of our Daily Moisture Body Lotion, and embrace the joy of deeply nourished and radiant skin.