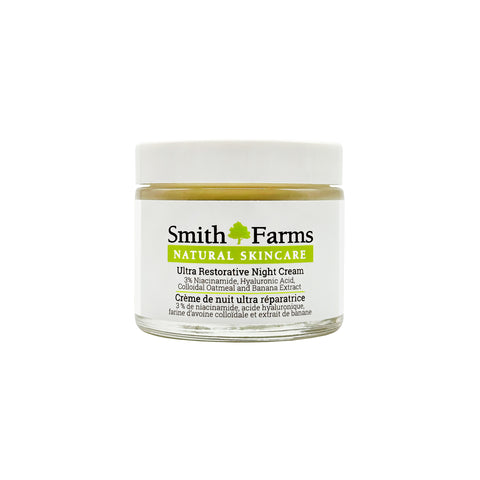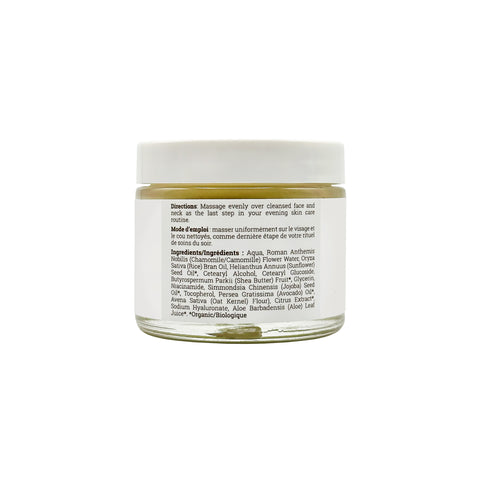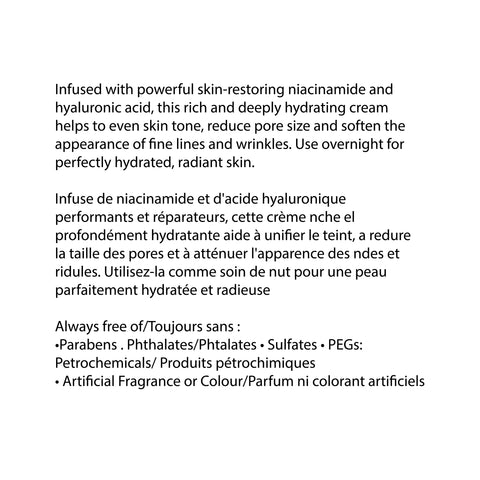 Brand:
Visit the Brand's page by clicking its name.
Smith Farms Ultra Restorative Night Cream
Introducing our Hydrating Cream: Restore and Nourish Your Skin
Experience the power of our specially formulated Hydrating Cream, enriched with key ingredients to revitalize and deeply hydrate your skin. Infused with a potent combination of 3% niacinamide, hyaluronic acid, colloidal oatmeal, and banana extract, this cream provides the ultimate solution for perfectly hydrated and radiant skin.
KEY INGREDIENTS:
Niacinamide: This remarkable ingredient brightens and evens skin tone, reduces pore size, and diminishes the appearance of fine lines and wrinkles, revealing a smoother complexion.
Hyaluronic Acid (two types): High molecular weight hyaluronic acid molecules instantly plump and hydrate the skin, while low molecular weight hyaluronic acid penetrates deep into the skin, providing long-lasting hydration and promoting skin regeneration.
Colloidal Oatmeal: Deeply moisturizing and protective, colloidal oatmeal acts as an anti-irritant, soothing dry and itchy skin, while providing intense hydration.
Banana Extract: Abundant in potassium and vitamin A, banana extract helps soothe and hydrate dry skin, leaving it feeling refreshed and revitalized.
SIZE: 68 ml/2.3 fl oz. U.S.
Directions for use: Massage the cream evenly over your cleansed face and neck as the last step in your evening skincare routine, allowing the powerful ingredients to work their magic while you sleep.
Let's take a closer look at the carefully selected ingredients in our Hydrating Cream:
Aqua: Purified water that serves as the base for our hydrating formula.
Roman Anthemis Nobilis (Chamomile/Camomille) Flower Water: Chamomile flower water provides soothing and calming properties to the skin.
Oryza Sativa (Rice) Bran Oil: Rice bran oil is rich in antioxidants and helps to nourish and protect the skin.
Helianthus Annuus (Sunflower) Seed Oil*: Sunflower seed oil is deeply moisturizing and contains essential fatty acids for healthy skin.
Cetearyl Alcohol: A fatty alcohol that acts as an emollient and helps to soften and smooth the skin.
Cetearyl Glucoside: A plant sugar-derived emulsifier that helps to blend the ingredients together and provide a creamy texture.
Butyrospermum Parkii (Shea Butter) Fruit*: Shea butter is a luxurious moisturizer that deeply hydrates and nourishes the skin.
Glycerin: Derived from plant sources, glycerin attracts and retains moisture, keeping the skin hydrated.
Niacinamide: Brightens skin tone, reduces pore size, and softens the appearance of fine lines and wrinkles.
Simmondsia Chinensis (Jojoba) Seed Oil*: Jojoba seed oil closely resembles the skin's natural sebum, providing excellent hydration without greasiness.
Tocopherol: Vitamin E, a powerful antioxidant, helps protect the skin from environmental damage.
Persea Gratissima (Avocado) Oil*: Avocado oil is deeply nourishing and helps to replenish and restore the skin's moisture barrier.
Avena Sativa (Oat Kernel) Flour): Colloidal oatmeal, derived from oat kernel flour, deeply moisturizes and soothes dry and itchy skin.
Citrus Extract*: A natural preservative derived from citrus fruits, ensuring the longevity of the product.
Musa Paradisiaca Fruit Extract: Banana extract, rich in potassium and vitamin A, provides soothing and hydrating properties to dry skin.
Sodium Hyaluronate: A form of hyaluronic acid that attracts and retains moisture, promoting hydrated and plump skin.
Aloe Barbadensis (Aloe) Leaf Juice*: Aloe vera leaf juice soothes and hydrates the skin, reducing irritation and promoting a healthy complexion.
Choosing our Hydrating Cream offers a range of benefits and features:
Made from natural plant-based ingredients.
Vegan formulation, free from animal-derived ingredients.
Cruelty-free, as we firmly oppose animal testing.
Environmentally friendly packaging, prioritizing sustainability.
Crafted with care in Canada.
Rediscover the true potential of your skin with our Ultra Restorative Night Cream. Let its powerful blend of niacinamide, hyaluronic acid, colloidal oatmeal, and banana extract transform your skincare routine and unveil perfectly hydrated, radiant, and revitalized skin.