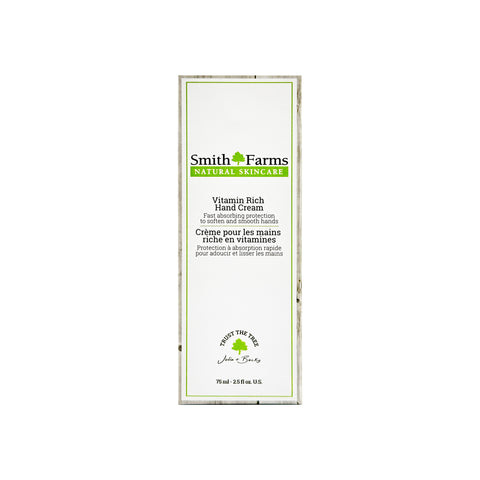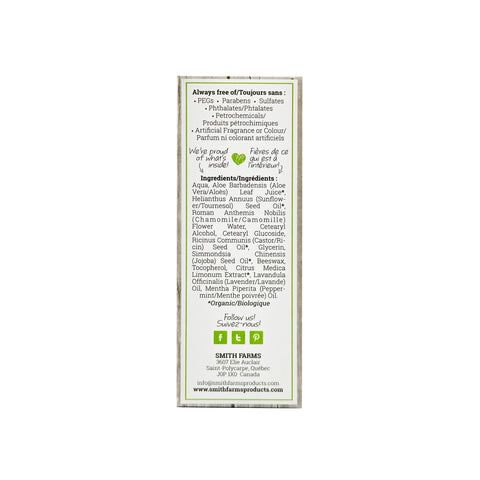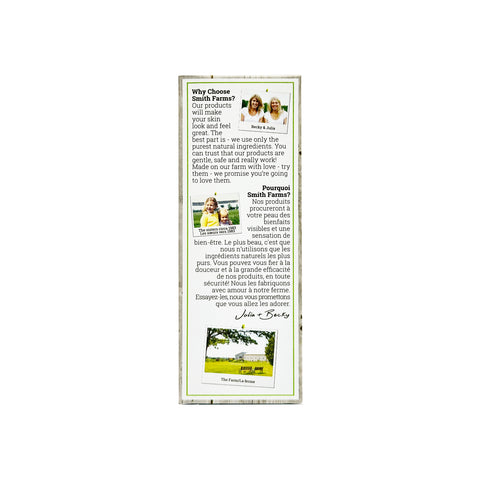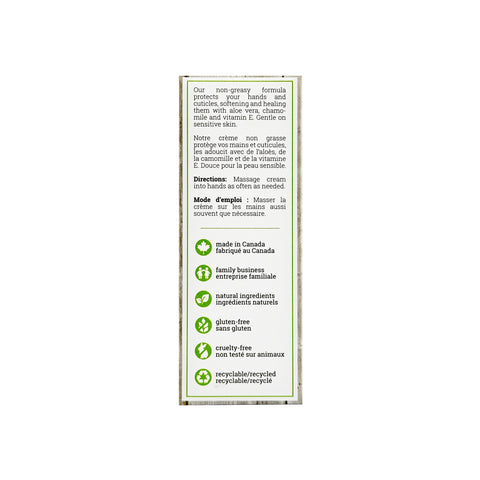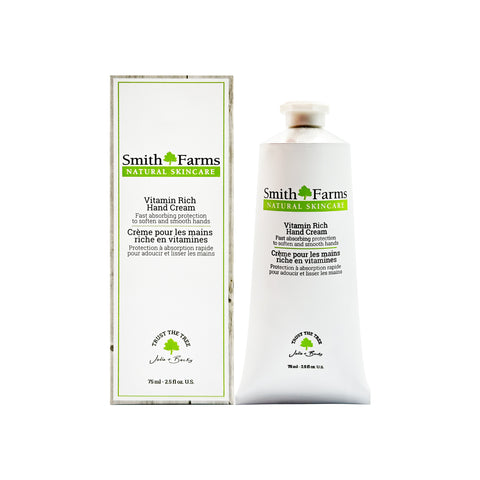 Brand:
Visit the Brand's page by clicking its name.
Smith Farms Vitamin Rich Hand Cream
Introducing our Vitamin-Rich Hand Cream: The Ultimate Solution for Soft, Smooth Hands
Our Vitamin-Rich Hand Cream is a true miracle worker, offering rapid absorption and long-lasting protection to nourish and rejuvenate your hands. Customers adore this non-greasy formula, which deeply moisturizes rough, damaged hands and cuticles, leaving them softer and healthier.
Enriched with the healing power of carefully selected ingredients, here's a breakdown of what our hand cream contains:
Distilled Water: Purified water that serves as the base for our nourishing formula.
Aloe Vera: Known for its soothing and moisturizing properties, aloe vera helps hydrate and heal the skin.
Organic Sunflower Oil: Rich in essential fatty acids, sunflower oil helps lock in moisture, promoting softness and smoothness.
Chamomile Water: Infused with chamomile flowers, chamomile water calms and soothes the skin, reducing irritation.
Organic Cetearyl Alcohol (and) Cetearyl Glucoside: A plant sugar-derived emulsifier that helps blend the ingredients together, ensuring a smooth and creamy texture.
Organic Castor Oil: Castor oil is deeply moisturizing and helps restore the skin's natural moisture barrier.
Vegetable Glycerin: Derived from vegetables, glycerin acts as a humectant, attracting and retaining moisture in the skin.
Organic Jojoba Oil: Jojoba oil closely resembles the skin's natural sebum, providing excellent hydration without greasiness.
Vitamin E: A powerful antioxidant that nourishes and protects the skin from environmental damage.
Beeswax: Beeswax forms a protective barrier on the skin, sealing in moisture and preventing dryness.
Organic Citrus Extract: A natural preservative derived from citrus fruits, ensuring the longevity of the product.
Lavender Essential Oil: Lavender oil offers a calming aroma and can help soothe and rejuvenate the skin.
Peppermint Essential Oil: Peppermint oil provides a refreshing scent and offers a cooling sensation to tired hands.
Choosing our hand cream offers you a host of benefits and features:
Ideal for all skin types, including troubled and allergy-prone skin.
Gentle and safe for sensitive skin.
Made from natural plant-based ingredients.
Suitable for vegetarians.
Free from synthetic additives.
Gluten-free formulation.
Cruelty-free, as we firmly oppose animal testing.
Environmentally friendly packaging.
Crafted with care in Canada.
Discover the transformative power of our Vitamin-Rich Hand Cream, and indulge in the luxury of soft, supple hands.