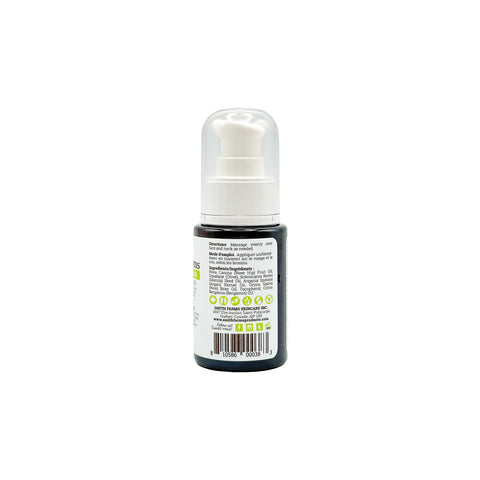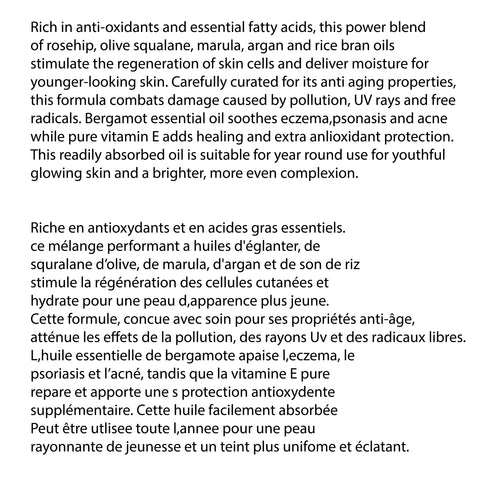 Brand:
Visit the Brand's page by clicking its name.
Smith Farms Youth Renewing Facial Oil
Introducing our Skin Renewing Facial Oil: Unlock the Power of Youthful Glowing Skin
Our Skin Regenerating Facial Oil is a potent blend of key ingredients, carefully selected to deliver remarkable benefits to your skin. Packed with anti-oxidants and essential fatty acids, this power blend of rosehip, olive squalane, marula, argan, and rice bran oils works synergistically to stimulate the regeneration of skin cells and provide intense moisture, resulting in a more youthful-looking complexion.
Harnessing the healing properties of bergamot essential oil and the extra antioxidant protection from pure vitamin E, our facial oil not only soothes skin conditions such as eczema, psoriasis, and acne, but it also aids in the overall healing process. The readily absorbed formula ensures year-round use, promoting a brighter, more even complexion and giving your skin a youthful glow.
SIZE: 30 ml/1 fl oz. U.S.
Directions for use: Massage the oil evenly over your face and neck as needed, allowing it to penetrate the skin and provide its rejuvenating effects.
Let's take a closer look at the carefully selected ingredients in our Skin Regenerating Facial Oil:
Rosehip Oil: Rich in vitamins and antioxidants, rosehip oil stimulates skin cell regeneration, improving the overall appearance and texture of the skin.
Olive Squalane: Known for its moisturizing properties, olive squalane helps restore skin elasticity and suppleness.
Marula Oil: This nourishing oil is packed with fatty acids and antioxidants, promoting skin hydration and reducing the signs of aging.
Argan Oil: A highly prized oil, argan oil is rich in vitamin E and essential fatty acids, providing intense hydration and nourishment.
Rice Bran Oil: Rice bran oil contains natural antioxidants that protect the skin from environmental stressors and promote a more youthful complexion.
Vitamin E: A powerful antioxidant that aids in healing and provides additional protection against free radicals.
Bergamot Essential Oil: Bergamot oil possesses soothing properties, making it effective in addressing skin conditions such as eczema, psoriasis, and acne.
Choosing our Skin Regenerating Facial Oil brings you a range of benefits and features:
Ideal for all skin types, including troubled and allergy-prone skin.
Gentle on sensitive skin.
Made from natural plant-based ingredients.
Suitable for vegans.
Free from synthetic additives.
Gluten-free and soy-free formulation.
Cruelty-free, as we firmly oppose animal testing.
Environmentally friendly packaging.
Crafted with care in Canada.
Experience the transformation of your skin with our Youth Renewing Facial Oil, and unveil a radiant, youthful complexion that glows from within.